Tired of lugging around a heavy vacuum or struggling with a broom and dustpan?
Now you don't have to! Easy to use sweeper features two special 360° rotating heads, a "catch bucket" for dust and dirt, handle and 40" (100 CM) L extension pole. Easily reaches corners and tight spots, keeping your floors clean while saving you from back breaking work!
This QT Cleaner™ works like a vacuum, with the ease of a broom and no electricity or batteries! You'll wonder how you survived without it!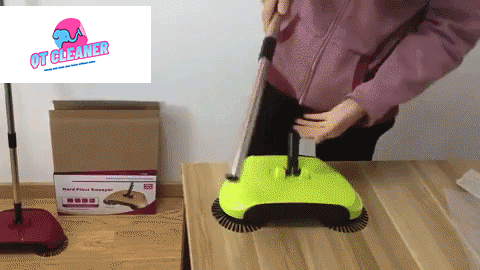 Key Features and Benefits 
All In One : Come with broom, dustpan and trash bin.
Adjustable :  It has the handle with adjustable length as required.
Convenience : Cleaning is very convenient and easy with QT Cleaner™ 
Floor Types :  Wooden , PVC title, Marble, Ceramic Tile, Cement ground, etc.
Durability : The QT Cleaner™ is super strong and durable.
Dust Rack : 360 degree rotating brush with high speed rotation to touch down rubbish dust swept into the dustbin 
QT Cleaner's specially designed handles can rotate 360 degrees for sweepingthe corners that are hard to reach.
✓ QT Cleaner™ has Adjustable Handle Height.
The 3 sectioned handle can be used as height as 110 cm.
✓ QT Cleaner™ is Easy to Use.
The sleek design offers an easier handling experience leaving you more comfortable and confident while sweeping.
✓ QT Cleaner™ is Portable.
Due to its small size and weight, this sweeper is perfect for carrying around your house.
✓ QT Cleaner™ is Perfect for Hard Floors.
QT cleaner is perfect for any kind of wood, cement, marble hard floor.
✓ QT Cleaner™ is Totally Quiet.
QT Cleaner does not need batteries or electricity. No disturbing sounds while you are sweeping. 
How To Install 
The QT Cleaner™ is super easy to install and only takes a Few Minutes !
Package Includes:

1 x Mop Head
1 x 3-Sections Rod
Corona-virus Update
Are you worried about your shipment during Coronavirus Pandemic?
Don't worry, as QT Cleaner™ , Our worldwide shipping times have not been affected.
We keep our customers updated at this page.